FLAVEX - Your Competent and Reliable Partner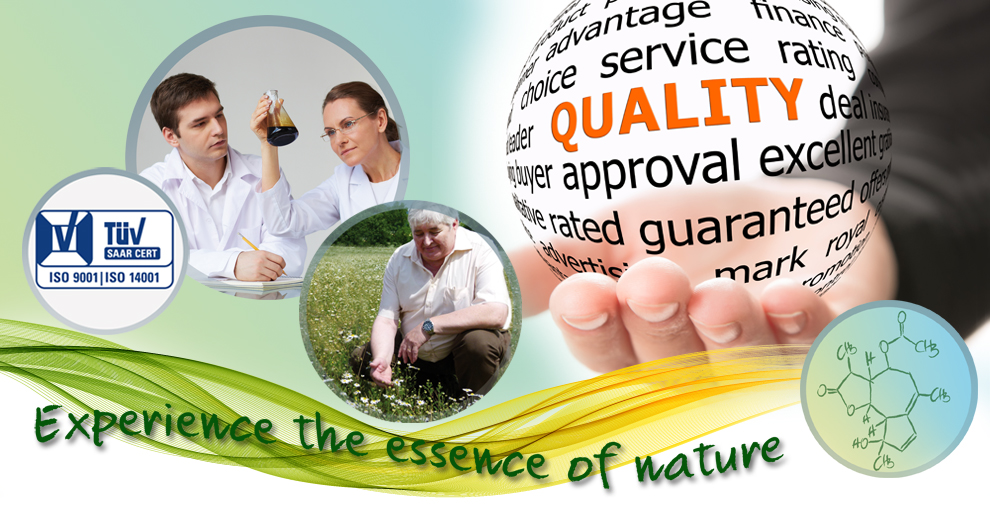 Innovations and continuous improvements have a high priority at FLAVEX. In addition, we have several certifications which are annually reviewed by third party auditors. This way we can guarantee consistently high product quality for your brand.
Many FLAVEX CO2 extracts are certified according to EU Organic Regulation 2018/848. Issuance of this certificate by control authority QC&I GmbH (DE-ÖKO-013) confirms that the growers of the raw materials, the traders and also FLAVEX as extract manufacturer fulfil the strict requirements of the EU Organic Regulation.
Each economic operator is tested and audited at least once a year to verify compliance with the requirements.
Please note: new certificates from mid-2023 no longer contain a product list. Organic products are regularly verified by audits of the inspection body.
You can find the list of our certified organic standard products here.
FLAVEX organic products, which are certified under regulation (EC) No. 2018/848, can be marketed in the United States as 'organic' with NOP Import Certificate.
In 2012, the United States and the European Commission reached an agreement for mutual recognition of organic standards. This enables companies to market their products in each other's markets. Customers from other regions should verify approval with their certifier.
The certificate is issued by the Halal Certification Services. HCS is a worldwide recognized and respected Islamic organization. HCS is continuously working towards awareness of Halal and is striving to increase the diversity of Halal certified products.
HCS is a member of World Halal Food Council and is inter alia officially recognized from MUI (Indonesia), JAKIM (Malaysia) and MUIS (Singapore).
Halal certification confirms that the extract complies with Halal requirements.
KLBD is a leading international agency that offers professional kosher certification services worldwide. The certification verifies that the production processes and the CO2 extracts comply with the requirements of kashrut (Jewish religious dietary law). Applied to our company, this regulation means that basically all plant products that we currently produce are certified accordingly kosher (parve).
We offer a COSMOS certificate for selected EU organic certified CO2 extracts. Most listed extracts are already certified according to Council Regulation (EC) No 2018/848, so they are 100% organic – not only proportionally!
This simplifies the certification process for our customer's formulation according to COSMOS-standard.
We are able to fill out the COSMOS form for the non-listed CO2 extracts, if necessary. However, most certifiers accept our EU Organic Certificate.
Conventional FLAVEX CO2 extracts are also used in natural cosmetics. Most of them are even suitable for organic cosmetics according to the "5% rule", i.e. at least 95 % must be organic. You can find many conventional CO2 extracts in our Attestation of Conformity for COSMOS approved raw material.
This simplifies the certification process for our customer's formulation or final products according to COSMOS-standard for organic and natural cosmetics.
We are happy to fill out the COSMOS form for the non-listed CO2 extracts.
NATRUE, the International Natural and Organic Cosmetics Association, is an international non-profit association (AISBL) based in Brussels.
NATRUE was founded in 2007 to protect and promote natural and organic cosmetics to the benefit of consumers worldwide. The NATRUE Label continues to represent a high-quality standard and transparency against greenwashing thanks to its strict set of criteria for the formulation of natural and organic cosmetics.
Many of our conventional CO2 extracts are "NATRUE Approved" by EcoControl GmbH. Our EU organic certified CO2 extracts are automatically accepted by NATRUE.
More details about the certified products and raw materials carrying the NATRUE Label can be checked in NATRUE's public online database.
The ISO 14001 certification confirms that FLAVEX has a great sense of responsibility in environmental protection and in the gentle and careful handling of natural resources. This also includes general legal compliance and occupational safety. State-of-the-art production technologies and an effective environmental management system are the basis for a responsible attitude towards the environment.
The certification includes all processes from development to manufacturing and from analysis to marketing of the plant extracts. The ISO 9001 certification includes a comprehensible documentation, the training of employees, internal audits and statistics of key performance data and risk assessment. Qualification of suppliers and customer satisfaction are also included.
The certification is based on existing legal requirements for the food industry. The strict compliance with hygiene standards is our top priority. The purpose of the HACCP concept is to systematically identify the factors, which are potential health risks for consumers and to avoid them. The certification basis is the Codex Alimentarius ("Food Code").
FLAVEX proves its efforts in corporate social responsibility by being granted the gold medal from Ecovadis. This recognition states that FLAVEX performs above-average in the following areas: fair business practices, working conditions and sustainable procurement. Ecovadis is a leading solution provider for sustainability monitoring in global supply chains using innovative technology and CSR expertise.
Due to its solid financial foundation and a corporate policy focused on stability and security, FLAVEX was awarded the coveted creditworthiness certificate CrefoZert.
Only about 1.7 % of all German companies meet the strict criteria of the Creditreform. This affirms that FLAVEX is securing the future of its employees, customers and suppliers through forward-thinking and sustainable management.
Sustainability also in the energy sector – Our investments in renewable energies are an important contribution to help protect the environment and to help save valuable resources. In addition, we actively contribute to climate protection by consistently taking advantage of opportunities to save CO2 and reduce our CO2 footprint.
FLAVEX Naturextrakte GmbH was accepted into the Saarland Environmental Pact for its dedication in energy efficient production.
In order to be able to produce cost-efficiently and – very importantly – to meet our environmental targets, FLAVEX has invested significantly in energy-efficient production.
FLAVEX runs two photovoltaic power plants with an output of nearly 100 kW each. The solar energy generated is used in the production for our natural extracts. The additional electrical energy required for our business is generated 100% from certified hydropower plants in the Alps.